Rainbow Chicken Pilaf
Here is the recipe for our delicious Rainbow Chicken Pilaf, from our in-house Dietitians, Alex and Anna.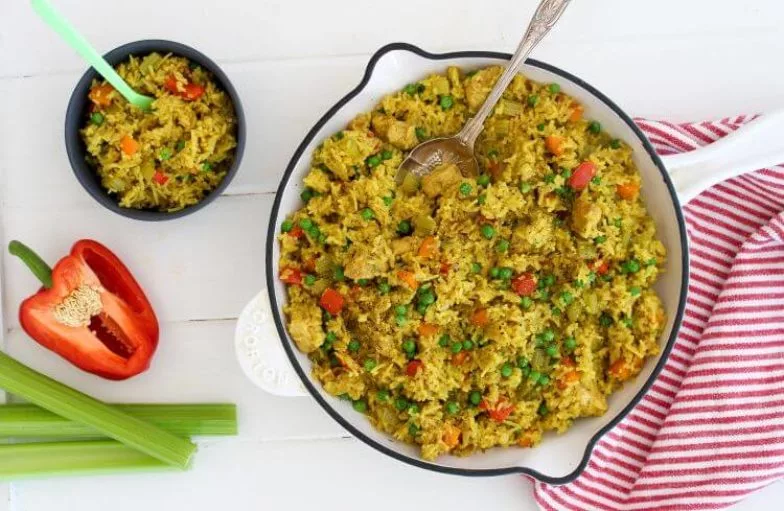 Rainbow Chicken Pilaf Recipe
Makes: 6


Ingredients
1 tsp Extra vigin olive oil
1 Brown onion, finely diced
650g Chicken
1 tsp Ginger, minced
1 tsp Garam masala, ground
1 tsp Cinnamon, ground
1 tsp Turmeric, ground
1 3/4 Cup Basmati rice, uncooked
1L Chicken stock, salt reduced
1 Carrot, diced
3 stalks Celery, diced
1 Capsicum
1 Cup Frozen Peas
Summer veggies to serve
Method
Heat a drizzle of olive oil in a large fry pan. Add onions and stir until softened.
Add the chicken pieces and fry until the chicken pieces start to brown.
Add garam masala, cinnamon and turmeric, carrot, celery and uncooked rice to the pan. Stir for a couple of minutes until rice is yellow.
Pour in the stock and add capsicum and peas. Bring to the boil, lower the heat, then cover the pan with a lid. Cook until rice is cooked and stock is absorbed.
Serve chicken pilaf with seasonal vegetables.
Download a pdf of this recipe below
For information on our Dietitian-designed menu offerings at Only About Children see our
Nutrition
page.
Only About Children can help your child to grow, make friends and explore the world.
Only About Children can help your child to grow, make friends and explore the world.
Related Reads
Australia's Best Teachers: Early Childhood Teacher Renee Connaghan
Careers
"When you get quality services and quality organisations delivering a higher standard of care that sits outside of basic childcare, then people start to develop a new respect for it. Having engaged, passionate and well-educated educators who love what they do, that's what's necessary to continue to lift the profile."
Settling into Childcare or Transitioning Rooms
Wellbeing
Dr Kaylene Henderson, Child Psychiatrist and Only About Children Parenting Expert explores the topic of settling into Childcare or transitioning rooms.
Meet Our Hampton Campus Cook - Hinako Inoue
Careers
Our dedicated team of in-house campus cooks have the responsibility of creating delicious, seasonal meals for the children in our care. We welcome you to meet Hinako Inoue, our in-house campus cook from Only About Children Hampton. Hinako explains why she loves working for OAC and how she finds her role so rewarding.