We understand how crucial the first five years are to every child's development and growth. Our dedicated programs are designed so your child has the opportunity to embark on a wonderful learning journey to achieve their full potential.
What makes our approach to early learning so unique?
The Grow Curriculum is our unique educational framework and the basis for essential early years learning and development. It includes core practices and programs that children are immersed in daily, through a balance of structured and unstructured play-based learning. It is guided by the Australia Early Years Learning Framework and the Australian National Curriculum. Within this learning framework we deliver our own unique programs, designed in consultation with our in-house curriculum specialists and children's health specialists. Our Grow Curriculum includes 'Book of the Month', Music, Spanish Language and Active Programs.
We believe children thrive through intentional teaching, in small age-based groups tailored for nursery, toddler and preschool/kinder. Our approach is holistic in nature – in that children's education and development experiences are immersed into daily practice.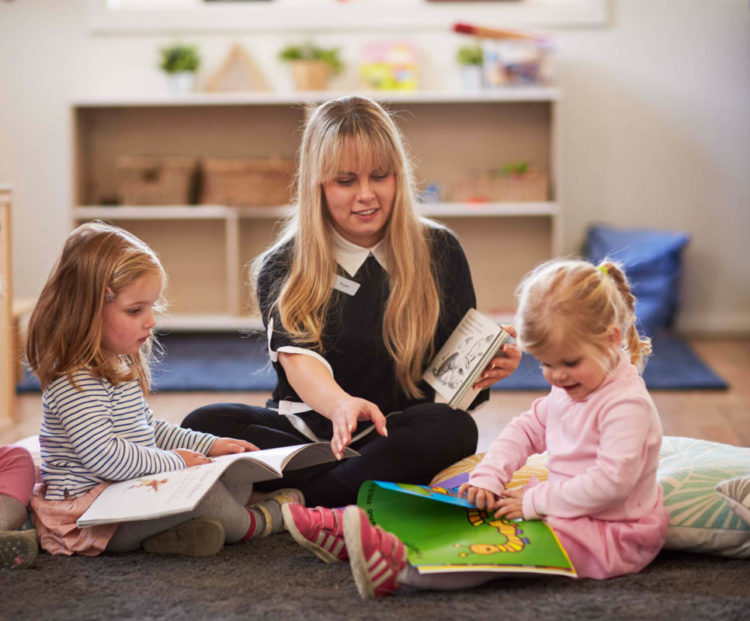 Sharing stories
Our 'Book of the Month' program has been designed to introduce children to the wonderful world of language and literature. Each month, nursery, toddler and preschool/kinder children explore a new book through its illustrations, themes and learning concepts as part of the wider age-based Grow Curriculum.
Igniting a passion for music
We believe that music is a key part of life, and evidence-based research shows that it can improve other areas of learning and development including language, memory and problem solving. Our music program encourages children to understand and appreciate everything from tempo and timbre, to pitch and participation through movement. Children explore music every day through song and dance.
Loving language
Did you know that a child's brain is primed for language learning in their first few years of life? Our Spanish language program has been developed and age-appropriately designed for nursery, toddler and preschool/kinder children and the benefits go well beyond language. This program is integrated into our wider curriculum to support learning concepts including literacy, numeracy, creativity, problem-solving and verbal skills.
Let's get physical
Physical confidence and being active is important to every child's self-esteem and wellbeing. Developed by our specialist Exercise Science and Human Movement program manager, our unique Active program helps children learn important gross motor skills, and a love of physical activity. Through our program, children improve their hand eye coordination, balance, flexibility, fitness, motor planning and body awareness.
Set for the transition to school
We support your child's development holistically. Our dedicated curriculum focuses on school-readiness outcomes such as a love of learning, emotional wellbeing, health, social and communication skills so that every child has the opportunity to thrive in their transition to a school environment.
Progressing from preschool/kindergarten to school is a huge milestone, not only for a child but for their parents too. Our in-house specialist Speech Pathologists, Occupational Therapists and Head of Health run regular School Readiness information workshops for parents, so families can support and encourage their child's school readiness beyond the classroom and in a home environment.